Silent Steel Safe-Breaker is a small and handy 3in1 accessory for multiple uses. It can be used to cut concrete enforcement bars. At the muzzle there are four glass breaker spikes to break car windows. It works also as a blast can since it forces the gas pressure forward. The forward forced pressure also directs metal shrapnel forward, away from operator when cutting enforcement bars. The spikes at the muzzle helps to hold barrel at the correct position when shooting/breaking door locks and hinges.
Safe-Breaker can be installed on all Silent Steel muzzle devices. Muzzle device o-ring keeps the Safe-Breaker securely on its place and allows Safe-Breaker to rotate and index into preferred position. After reinforcement bar is placed into Safe-Breaker slot, o-ring locking allows rifle to be rotated to preferred and safe position before shooting.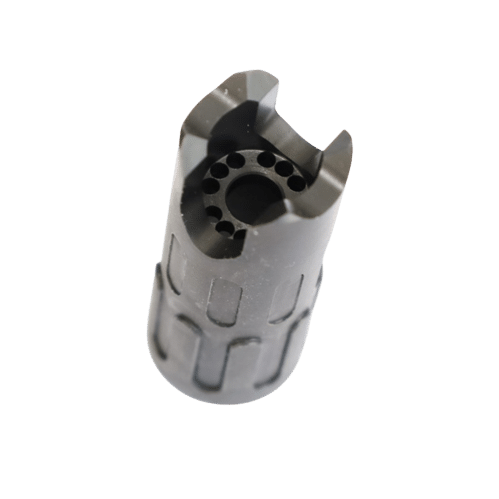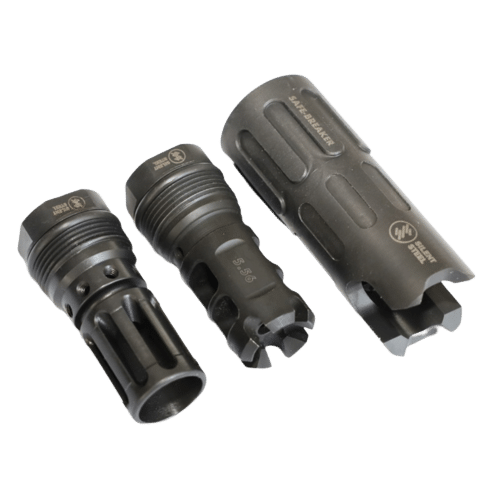 Technical Specifications:
Lenght: 81mm
Diameter: 32mm
Weight: 171g
Material: 25CrMo4
Surface treatment: Nitriding
Specifications:
– Aligns the bore of the weapon with rebar for more effective cutting
– Offers some protection from shrapnel and directs expanding gasses of the shot forward
– Blast can feature most user/partner friendly when installed on muzzle brake.
– Compatible with all Silent Steel QD muzzle devices
– Does not degrade performance of the rifle
– Can be used with any 5.56 and 7.62 ammunition
– Designed and tested for use on 12mm or smaller diameter rebar
More info:
The heat resistant o-ring behind the thread secures the Safe-Breaker tightly on the muzzle device and Safe-Breaker will not loosen up by itself. The heat resistant o-ring peak temperature resistance is 400c degrees. In our test the muzzle device temperature, with AR15 equipped with 5.56 Compact Streamer, was 280c degrees after 6 x 30 rounds magazines in row.
How to buy our products
For orders inside Finland, please fill out the order form below. We will contact you via email with the current availability. Please be ready to send a picture of your ID and gun license via email. We comply with all current laws and sell only to persons that are able to own our products.
Our products will also be available at selected retailers.
Distributors
If your country is not listed please contact us via our contact form.
Contact
For sale arrangements outside of Finland, please contact us via our contact form.